Does this door position look familiar !! Many customers state "our door looks the same as the one in the picture" 
This is a common repair that we do several times a day. This particular door is a Cardale garage door in which the cable has jumped off the cone and is now working in the opposite direction meaning the cable gets trapped in the cone. 
This client based in West Bridgford, Nottingham needed their garage door repaired when they went to close the door, it hit an object that was left by accident underneath the door. On this particular door there's a locking mechanism in the side tracks so in the event of the cables coming off, the door's locking mechanism locks the door in position. This prevents the door from falling down and causing you an injury, however it also means you will not be able to close the door and in most cases means you need a specialist repairer immediately otherwise your garage door would have to be left open in this position all day and night. Not only does this mean the possessions in your garage could be stolen but also if there's an internal door into your house you potentially could be burgled.
The repair is straightforward to a professional though not all garage door specialists are professionals, many will try to sell you a garage door however our focus is always to repair your door as per our name would suggest Garage Door Repair Man. 
We always replace cables as pairs as 99% of garage doors have to have both cables replaced and on this Cardale door we also tensioned the main spring. This spring runs across the top of the door and assists the door to open, we make any necessary adjustments and lightly lube all moving parts. We often see that the customer has used grease in the side tracks to help the rollers to slide freely, we advise against any use of grease reason being when you combine grease and dust it slowly turns into a cutting paste and will wear the roller wheels to a flat edge and they will now stop turning.
This is just one of the common problems that we see with garage doors. When you have 30 years of experience in fixing garage doors there is nothing that we haven't seen before.
If you are experiencing any sort of issue with your garage door and live in the Nottinghamshire area then do not hesitate and get in touch today on 07957 353 228.
Door stuck in a slanted position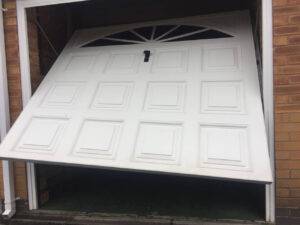 Cable has jumped off the cone following the door hitting an object left underneath the door in the opening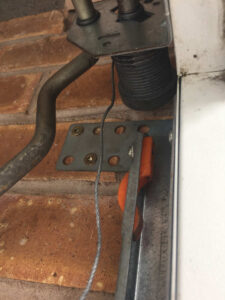 The removed cable, this is of no use now as you can see by the shape it has taken following being trapped, a good cable is perfectly straight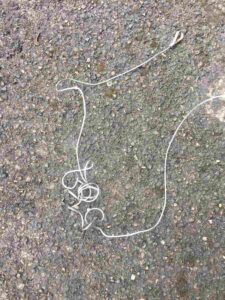 New cables fitted and you can see this now runs down the back of the cone the correct way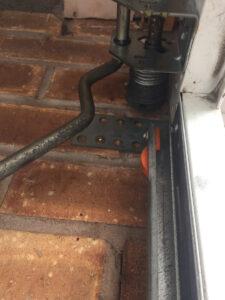 Both cables replaced, spring re-tensioned and the door is now level and working like a new door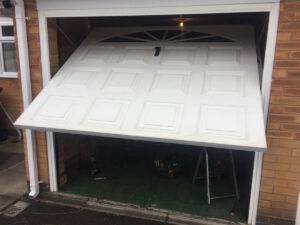 Once again if you are experiencing a garage door issue like this then do not hesitate to get in contact with us today on 07957 353 228