In a recent garage door repair in Alvaston, Derby we were asked to look at a STEEL-LINE single skin automated roller door that no longer worked.
Having checked the unit, the problem was the control box on the wall. The pcb (printed circuit board) had blown a resistor and so the control box needed to be replaced, due to its age being 16 years the customer asked if there were any other options. 
The other option and a better solution was to replace the existing control box and internal drive mechanism with a Chamberlain unit. This unit is combined so the control box and motor are one unit and you get two new remote control fobs and an internal light.
On this particular job removing the existing motor was straight forward due to the added clearance at each end of the roller door. It meant we did not have to remove the whole roller door, once the hanger bracket is removed from the side of the door, the existing motor slides out and the new one slides in. All we needed to do was refit the hanger and tighten the bolts.
Setting up the new door motor is much easier with the Chamberlain unit and done via the control panel on the front of the unit. The remote fobs are smaller meaning when placed in your pockets they cause no discomfort like the big old style remotes. 
We have a selection of pictures below from the particular job showing you the issues. However, if you live in the Derby area and have a similar issue or any garage door issues then do not hesitate to contact us on 07957 353 228 as we have 30 years of fixing all types of garage doors.
Faulty Steel-Line control box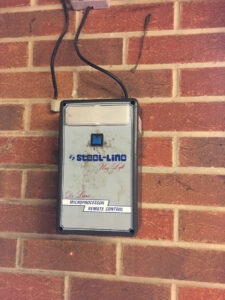 Existing Door Motor
New chamberlain door motor with built in LED light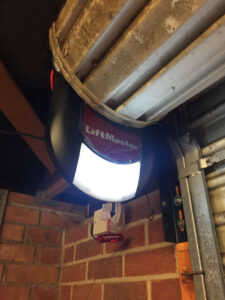 New Chamberlain all in one unit, slim design