The Complete Buyer's Guide To Roller Garage Doors
When looking for your perfect roller shutter garage door it can be overwhelming, with the vast amount of sizes, material and colour options available, finding the right garage door for your home can be harder than you may think. That is, unless you look in the right places, for instance, our Garage Door Repair Man website has a variety of garage doors to choose from that can complement any home, and we offer Garage Door repairs to restore your beloved roller garage door. 
A Garage Door will be the first thing your guests notice about your home. A complementary garage door that fits with the look and feel of your home will give the front of your house a uniform and polished look, completing the outside of your home to an excellent standard. A well-fitted garage door will also provide the much needed security while storing your valuables and your car, safe in the knowledge that everything is well protected with a safety-fitted garage door.
Which Roller Shutter Garage Door Is The Best?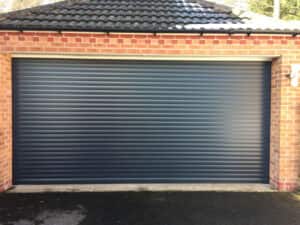 There are two types of Roller Garage Doors that we feel are best suited for any home. That is a single width roller garage door and a double width roller garage door. The garage door you choose depends on the size of the space you have available and the look you want to give your home and garage. 
A single width roller is ideal for a smaller garage space and will create a uniform look to the side of your home. Our single width roller garage doors come in a variety of sizes and colour options to fit with the rest of your home exterior. Whether you're looking for a golden oak effect single roller garage door or would prefer a more modern colour such as our anthracite colour single width roller garage door, we have a range of options available to suit your property. 
If you're looking for a more statement look for your home exterior, or if you are looking for additional storage space outside of your home, then a double width roller garage door is the one for you. A double width roller garage door can create a uniform look to your open garage and with the larger surface area, your garage can be better insulated and your garage colour choices are sure to stand out much more. A double roller garage door is perfect if you're looking for storage for two cars or have the space in your home for a double garage. If however, your garage is separated by a wall, you may prefer to go for two single roller garage doors instead. 
Our single and double width roller garage doors can be fitted with remote control operation, making access to and from the garage smooth and more convenient. Electric operated garage doors can also be a safer option for your home than a lock and key garage, so if you're going to keep valuables in your garage, electric garage doors may be a better option for you. 
Although a brand new garage door will create a polished look to your home and will keep your garage door looking fresh, at Garage Door Repair Man we offer a variety of garage door repair services so you can keep hold of your garage door, while giving your garage a new look. It goes without saying that this method will be much cheaper than buying a new garage door, it just depends on what you'd prefer when it comes to the exterior of your home. 
What Makes A Good Roller Garage Door?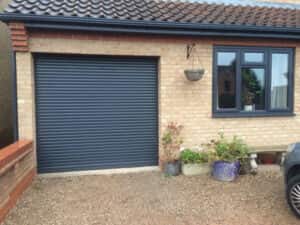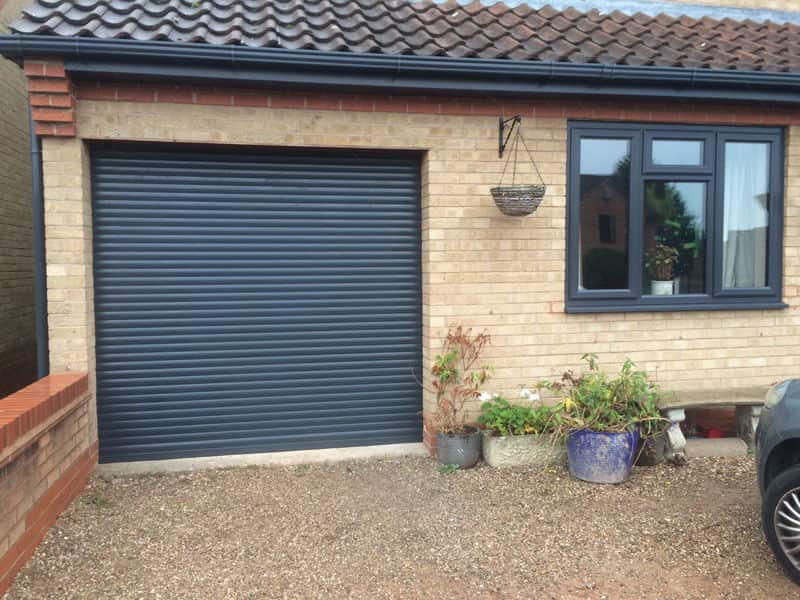 As there are so many garage door options available, they may all start to seem to blend into one, leaving you having to work out the differences door to door. Although the colour options and styles may be the first thing you notice about a garage door, this should be one of your final decisions since getting the right fitting and a secure roller shutter garage door should be a priority. 
At Garage Door Repair Man every garage door you buy can come installed with an electric garage roller system, keeping your home and garage safe. Many people may have a home that is connected to their garage, with a way to get from the garage directly into the home. This means that your garage door should be just as secure as your front door, keeping you and your valuables safe. With an electric garage door it means that intruders won't be able to simply pick or smash the lock to enter your garage, instead they would need the remote control for the garage door which will remain safely inside your home, leaving you and your garage safe at night. 
Although buying a low-priced garage door may seem like a sensible, cost saving idea at the time, we all know the troubles and frustrations associated with low-quality garage repairs and break-ins. A garage door may seem like an uncomplicated fixture that simply opens and closes on demand, however, the mechanism is far more complex and requires a specialist to make and install for it to operate properly.
Best Roller Garage Door Accessories
At Garage Door Repair Man we have a variety of garage door spares and parts and offer a range of fitting services to keep your garage door working as it should. No perfect garage door is complete without specialist fitting and expert parts included, which is why we have the following spare parts and spares available for your new roller shutter garage doors. 
Replacement Springs

Replacement Locks 

Garage Cones 

Garage Cables
All of our best garage doors accessories are offered with free delivery and comprehensive service every time, so we can fit the parts for you if you'd like. 
What Colour and Size Of Garage Door Should I Go For?
The colour and size of your garage door depends on the space you have available and the amount of storage space you require for your home. Of course, the more space you have and the more storage you need, the bigger your garage door will need to be. We offer a selection of double width roller shutter garage doors to fill a large space and provide insulation to your garage. We also have a range of single width roller doors for any standard garage size. If you're unsure on which garage door size you'll need, take a look at our supply and fit garage doors page. 
In terms of the colour of your garage door, it is completely down to your preference, among what your home exterior currently looks like- as you may wish to match it with that. Our range of roller shutter garage doors colours includes golden oak, white, anthracite coloured and black, to view our full garage door range, visit our remote control operated roller garage doors page.
What Can Garage Door Repair Man Do For You?
If you require a garage door repair in Derby or surrounding areas, or would simply like to receive more information on our services and the options available for you and your home, please get in contact with us today. Alternatively, you can call us on 0800 542 7978 to speak to a member of our friendly team or contact our emergency engineer directly on 07957 353 228 for an emergency repair.