If you're currently in the market for purchasing a new garage door, before you get hung up on the aesthetic appeal, the most important question you should be asking yourself is 'What is the most secure type of garage door?' Being burgled is not to be taken lightly. Not only have your possessions been taken, but a stranger has gained access to a place you consider safe which can become distressing. 
In order to help prevent your garage and house from being burgled, the team at Garage Door Repair Man has put together a handy guide of how to improve your garage door security.
Modern Garage Door Security Features
Modern models of garage doors are fitted with at least two internal locks and the option to install a number of others as an upgrade. Garage door security bars can also provide an extra level of security, as do euro cylinder locks, such as Yale and ABS locks, which prevent the main lock on your garage door from being picked or drilled open.
What Is The Most Secure Type Of Garage Door?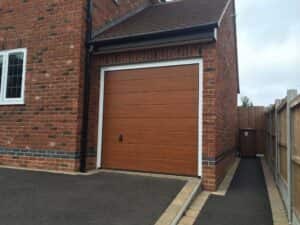 Sectional garage doors are by far the most secure type of garage door due to being made of heavy-duty and insulated material and being electrically operated. A number of sectional garage door brands have a steel hook that firmly locks the door panels into place and built into their mechanisms as an extra safety measure. With these garage doors folding backward and being split into a number of sections when closed, it is hard for a burglar or vandal to gain a point of entry for attack.
Install A Remote Control Lift Mechanism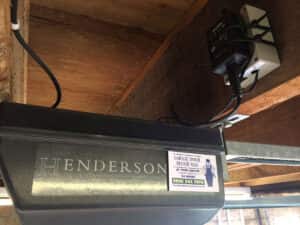 Previously, garage doors were easy targets for burglars because the remotes could be overridden and hacked with the use of a universal remote. In recent years, the industry has developed and has made significant technological advances to reduce the risk of this by creating new coding that changes the security passcode with every use, making it virtually impossible to hack.
Secure Your Garage Door Release
If you ever experience a power cut, to ensure that you can open your garage door from the inside, your motor will be fitted with an emergency release. In recent years, this has become an opportunity for a burglar to gain entry from the outside if they are able to pull the cord with a hook. 
We would suggest securing the emergency release cord with cable ties to prevent this from occurring.
Garage Door Security Timer
If your garage door has been open for a certain period of time, the installation of a timer will ensure that your garage door is automatically closed and locked should you forget to do so. The installation of a timer will give you peace of mind that wherever you are, your garage door is firmly closed and locked.
Invest In A High-Quality Garage Door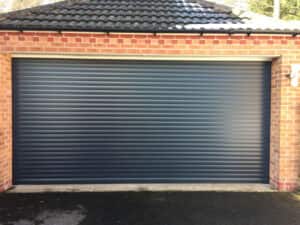 If you're living in an area that is prone to burglary, or are generally concerned about the safety of yourself and your possessions, one of the most important deterrents is to invest in a high-quality, heavy-duty garage door. The higher the quality, the better the garage door security and the less likely it will need repairing on a regular basis.
In addition to providing your house and garage with that extra level of security, a high-quality garage door is an investment and is likely to add value and a certain 'curb appeal' to your property.
Keep Up With Maintenance
If you've invested money in a premium garage door but never had it serviced since being fitted, you run the risk of it becoming faulty, resulting in a much higher chance of being burgled, especially if the lock is out of adjustment.
Regular maintenance will extend the life of your garage door and allow you to keep up to date with the latest garage door security technology, safeguarding yourself even further.
How Can Garage Door Repair Man Help You?
If you're looking to invest in an exceptional garage door, Garage Door Repair Man not only supplies a range of secure and stylish garage doors, but our expert engineers will also personally install it for your convenience! 
If you have any questions about our services and the options available for you and your home or would like to receive more information on garage door security, please get in contact with us today. Alternatively, you can call us on 0800 542 7978 to speak to a member of our friendly team or contact our emergency engineer if you're experiencing a fault or damage and require and garage door repair in Derby or the surrounding areas then call us on 07957 353 228, for an emergency repair.